Beer - The Original Biotech
By Roberta Alexander
On October 13, 2016, SDEE discussion was about beer, instead of drug discovery and biotechnology. The event was held at the Roth Auditorium at The Sanford Institute for Regenerative Medicine and attendees could sample several beers on the patio, looking at the beautiful view of the sunset on the ocean. Although the topic of the discussion seems unfitting with SDEE's scope, there are several reasons why the event was focused on beer: 1. Craft beer in San Diego is made by entrepreneurs who face challenges similar to those faced by scientists in start-up biotech companies; 2. SDEE holds monthly happy hours at a local brewery, so there is definitely a connection!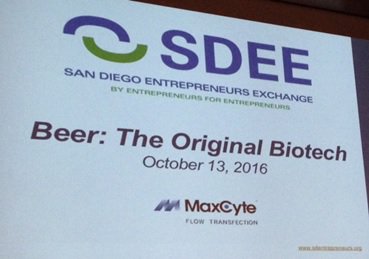 Panelists at the event, which was moderated by Randy Schreckhise, were Eric O'Connor from Thorn Street Brewery, Matt Del Vecchio of Duckfoot Brewing Company, and Simon Lacey of New English Brewing, where SDEE members and friends meet for happy hours.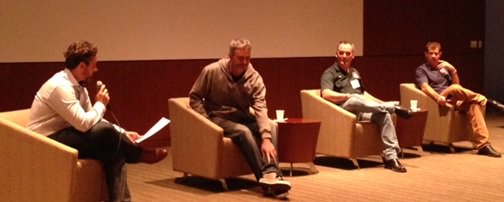 Where did the idea of starting a brewery come from?
Duckfoot Brewing Company was founded about 15 months ago but started, as an idea, years earlier, when Matt and his wife spent many weekends driving from New York City to Vermont to escape the stress of their lives in the city. Matt was a financial advisor not happy with his job and his hectic life in NYC. Although craft brewing was not very popular at the time, beer and snowboarding were passions that he wanted to pursue as career. While in the process of writing a business plan for a brewery catering to the snowboarding community, he was diagnosed with celiac disease, and his life became quite dark. The depression lifted when he discovered a brewery in Oregon that was making a couple of gluten-free beers using an enzyme to break down gluten. Thus, Duckfoot Brewing Company was born with the goal of making lots of different wonderful gluten-free beers, not only for snowboarders, but also for the celiac and gluten-free communities. Matt's passion for snowboarding was the inspiration for the name of the brewery, as duck is a popular snowboarding stance. Although still very young, Duckfoot Brewing Company has a tasting room and self distributes its beer up to Los Angeles.
Simon Lacey's story is not too different from Matt's in the sense that he, too, was tired of his career and wanted to pursue his passion. Simon was a mechanical engineer who moved to San Diego in 1995 to work for Nokia. After a couple of lay-offs, he went to a beer convention in town in 2004 and fell in love with the business of brewing. He learned the ropes via internships and small jobs, and opened New English in 2007. He is British, so that is where the name of his brewery originates. Simon did not write a business plan, but knew he wanted to produce beer by local people, with local products, and for the local community. To keep the costs down during the recession of 2008, he ran the business by himself in the Old Mission Brewery using shared equipment, and in 2011 he finally moved to his current location in Sorrento Valley. Ten years and 3 full time employees later, he is currently working on a business plan. New English Brewery has 1 distributor and plans to expand distribution to Orange and L.A. Counties. Now that grocery stores understand that customers want craft beer, Simon plans to get some coveted shelf space in grocery stores. Canada and Scandinavia are on the horizon, too.
Eric's story also fuses science with beer. He was the director of the flow cytometry core facility at the Sanford Institute for Regenerative Medicine until recently. Before that, he headed a flow cytometry core facility in the UK. This is where he rediscovered beers from England, Belgium, Germany, and the Czech Republic, where craft beer is actually called beer! Back in San Diego, he realized that the beer industry had flourished, and craft beer and food and beer pairings were now the norm. He became a home brewer and, eventually, bought a brewing license with some friends. Local bars and restaurant liked his beer, but he and his partners decided to raise some capital and expand beyond their cool place in North Park. They are building a facility in Barrio Logan and, although there have been some challenges, things are moving along nicely.
Beer competitions
The Great American Beer Festival in Denver, CO is widely considered to be the Super Bowl of beer, with over 7,000 beers competing for 280 medals. Winning a medal is quite an achievement, and San Diego brought home 18 of them in 2016. Duck Foot Brewery won a silver medal with its Contender IPA with Fresh Chilis, and New English's Zumbar Chocolate Coffee Imperial Stout, which uses coffee beans from the local coffee shop Zumbar, won a bronze. Eric did not win anything this year at the GABF, but his success in other competitions speak for the quality of his product.
Dark days in the brewery business
Brewing beer is not always fun. Frictions with business partners can happen in breweries like in any other start up. People put their savings in the business, money can be tight, and disagreements can ensue. Nonetheless, working through the differences and looking at the big picture can help create a great culture.
Non-human related problems can happen, too. Lactobacillus infection can be devastating for a barrel aged imperial stout and, if it happens, one just needs to throw away the whole batch, with big losses. In the long run, it is better to throw away one batch than to ruin one's reputation by bottling a subpar product.
Finding investors
Investors may be necessary in a brewery like in any other business. Equipment and facilities are expensive, so brewers need capital if they want to expand. Sometimes investors are just friends and family, and sometimes one can meet them via networking. In other cases, investors come to you. One advantage of having a tasting room is that people, including investors, get to know you, your product, and your business, and may want to invest in it.
Social media
It may be challenging to create interesting content for the various social media outlets, and it can be a lot of work for a small business, but nowadays having a social media presence is a must. Eric used social media to advertise some funny beer competitions for cash prizes. These competitions may not have been a great return on investment for the brewery, but they created a lot of traffic and people had a lot of fun!
This article was originally published by Roberta Alexander on LinkedIn.